Anti chipping nail nut oil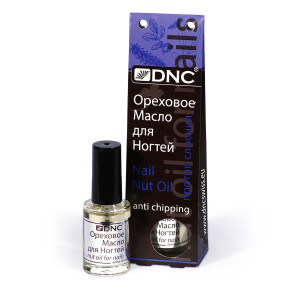 | | |
| --- | --- |
| Brand: | DNC |
| SKU: | 4751006755819 |
| Volume: | 6.0 ml. |
Oil DNC Anti chipping nail nut oil:
Features
Unfortunately, chipping is one of the most common nail problems. The basic causes are deficient nutrition of the nail bed, the cuticle, and the growing zone, as well as nail protection impairment. A simple but carefully selected complex of nut oils can be a great help. We have carefully extracted one of the most concentrated natural materials – natural oil from underneath the nutshell. Providing long-term protection from the first application.

Apply a small amount of the oil both to nails and to cuticles, preferably before going to bed. If possible, repeat daily for 1 to 2 weeks.
Ricinus communis seed oil (Касторовое Масло), Pinus sibirica seed oil (Кедровое Масло), Walnut oil, (Масло Грецкого Ореха), Olive oil (Оливковое Масло), Sesame seed oil (Кунжутное Масло), Retinyl palmitate (Витамин A)